HARDWARE

People have asked if they can only get the hardware. Well, here ya go.
A note on the various hardware options when you are checking out.

First, there should be photos with captions that describe what you are looking at when checking out. It's not always easy to keep everything consistent so I may have screwed up, as it was pointed out recently. Shoot me a line if you are confused but everything will be crystal clear soon.
I try to use 316 stainless wherever possible. It costs more but is more resistant to corrisives than 304 and 18-8, the other 2 most available options when it comes to stainless hardware. Contrary to popular belief stainless can rust, not all stainless is created equal and some has carbon and is slightly magnetic. The corrosion isn't usually drastic and the part will definitely outlast you, so... all of the above are a fine choice but why settle for fine when you can have the finest?
All stainless steel threads should be lubricated .
To prevent galling and corrosion – a Nickel based lubricant such as Loctite 771 or a PTFE based lubricant such as SUPER LUBE should be used. PTFE stands for polytetrafluoroethylene.

Galling is a form of abrasive wear that can occur when two metals rub together with poor lubrication. In short, it's when 2 parts become one. When two metals rub against each other they begin to wear down. As they wear the friction and pressure increases and the rubbing surfaces begin to stick and break each other down on the atomic level. Micro amounts of material transfer between the two surfaces. In extreme cases this abrasive wear can cause the two materials to fuse together, a process also known as cold welding or friction welding. So please, grease before you twist.



M6 CONE WASHER

SOCKET HEAD BOLT
Sold in pairs so you get :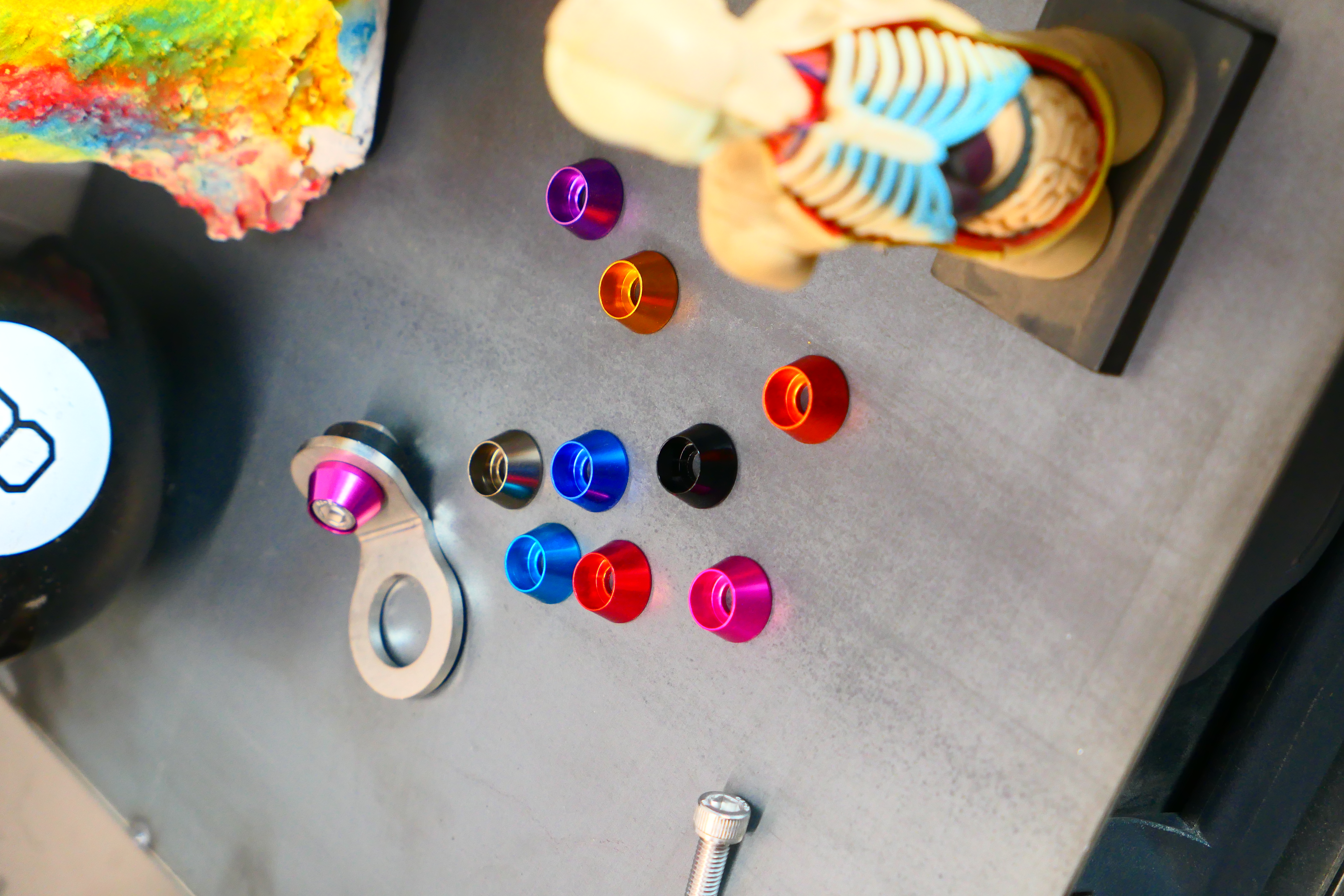 M6 COUNTERSUNK WASHER

FLATHEAD COUNTERSUNK BOLTS
Sold in pairs so you get :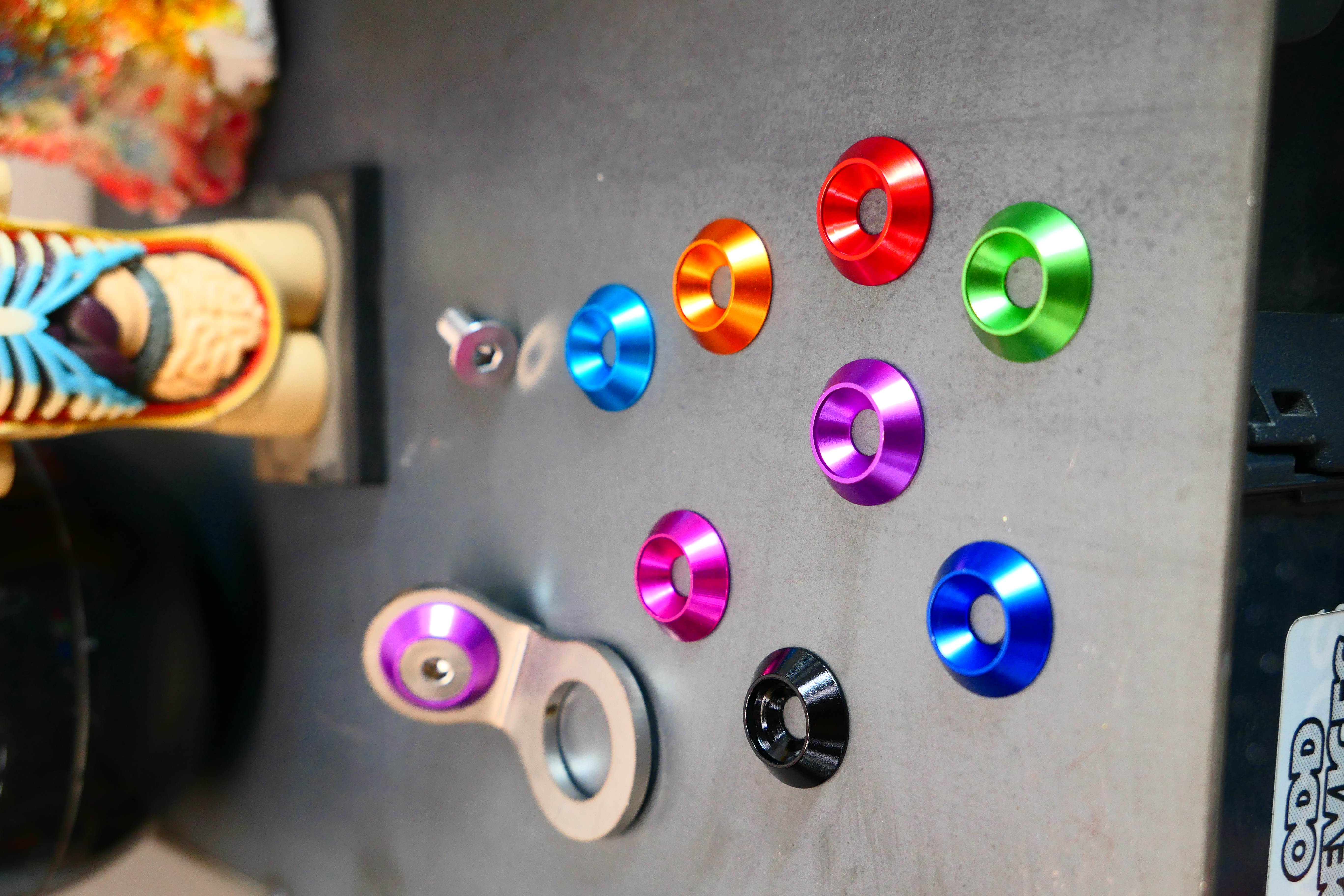 M6 BEVEL WASHER

SOCKET HEAD BOLT
Sold in pairs so you get :
M8 COUNTERSUNK WASHER
This fits the engine cover of an Acty and the 4 at the bottom of the rack behind the cab that hold the rack and hook thingy for the latch. These also fit Sambar and Carry latches in the bed of the truck. Not all colors shown. Check the drop down for options.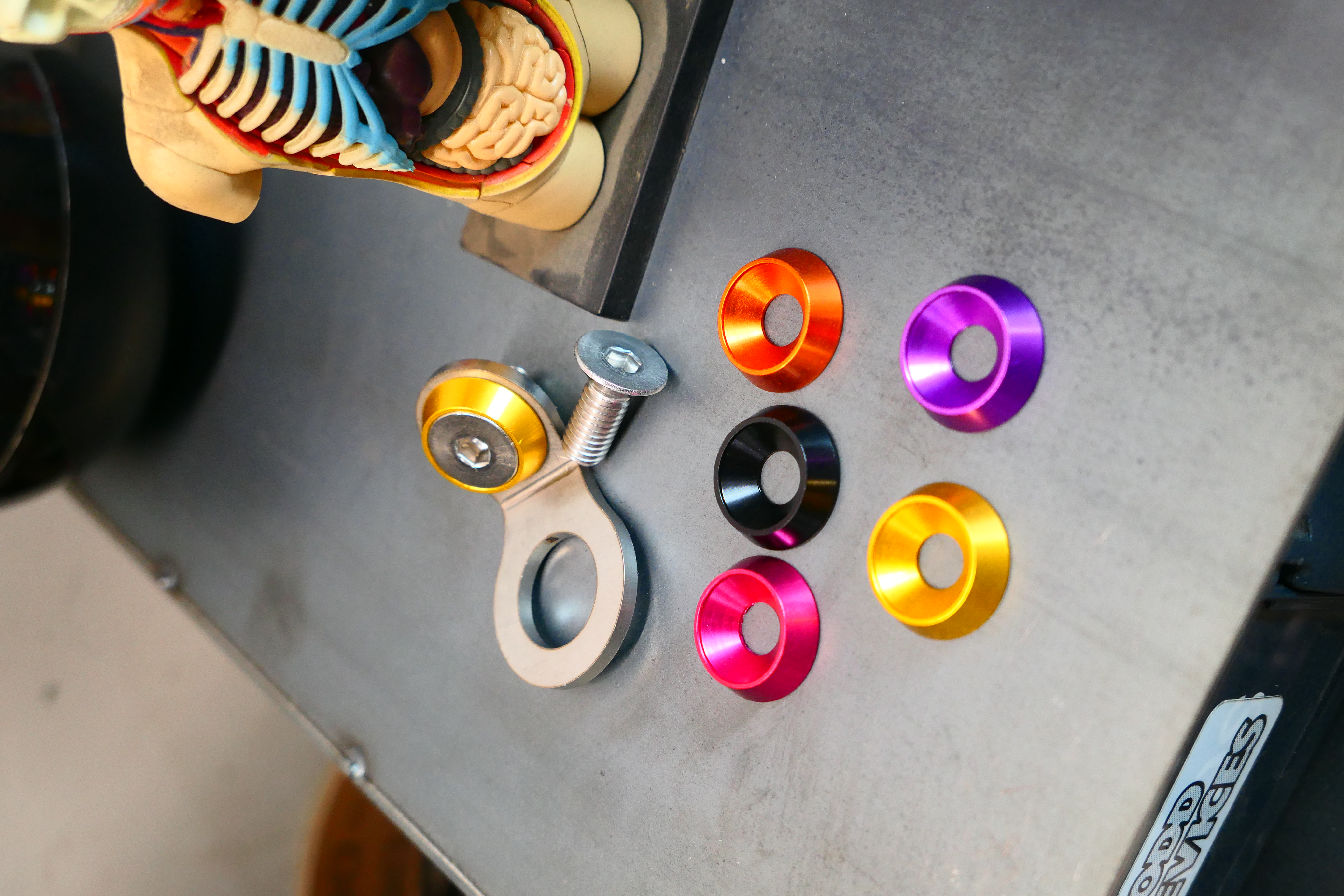 M6 RAISED FLAT WASHER

ANODIZED ALUMINUM - M6